This week we had 12 questions for Bianca Barnett. She is a beautiful actress that has had roles in Albino Farm, Dead Inside, In a Spiral State and the comedy My Sucky Teen Romance. She is the winner of this year's Golden Cob Award for Best Rising B Movie Actress and will likely become one of America's most popular Scream Queens. Bianca is also involved in the Ginger Stein comic book. After reading some of her past interviews and appreciating her honesty and perspective, I really wanted to get in touch with her and ask some questions for HorrorFansReview.com. She graciously agreed to participate.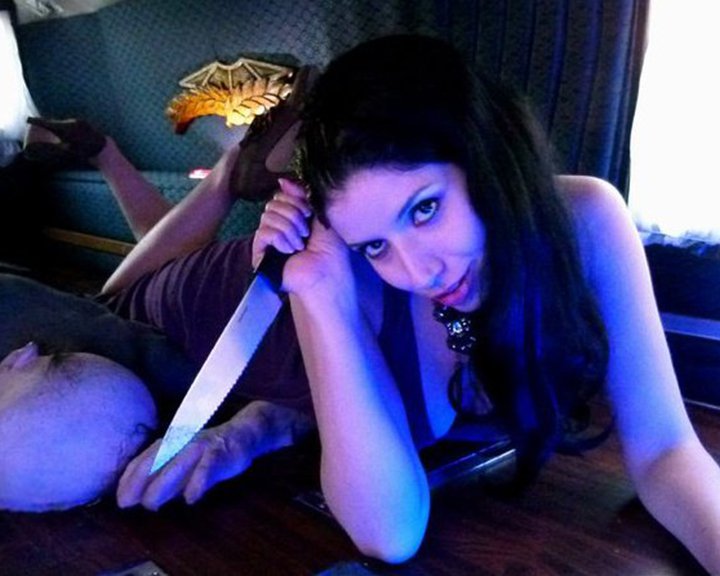 HorrorFan: Have you specifically chosen to do horror or did your career just take that direction? Are you interested in other genres, such as the comedy that you have already done, if the opportunities are there?
Bianca Barnett: I have specifically chosen horror, yes, but I am definitely open to other genres and films of larger budgets. I have a dark drama and an action flick that I am in negotiation for 2012.

HF: What projects are you involved in now?
BB: At the moment, everything is in the negotiation stage, but I hope I can start announcing new projects soon! If there are people out there interested in working with me, please contact me through my website. I do not work with agents or managers at the moment, so we can negotiate directly.
HF: What accomplishments are you most proud of at this point in your career?
BB: Well, winning a Golden Cob Award for Best Rising B Movie Actress in 2011 was amazing. I was also able to take part in My Sucky Teen Romance (directed by Emily Hagins) which premiered at SXSW Film Festival in 2011 and will premiere in theaters and on DVD in early 2012. Also, Showtime has been playing Albino Farm regularly since June 2011, which is really great. I was also in a horror comic by Dennis Willman called Ginger Stein- Rise of the Undead, and I will be in future issues as well. Oh, I also had the opportunity to work with 98 Rock in Baltimore for a charity called Scares That Care that helps underprivileged kids. It's been a very great year for me.

HF: It seems that "torture porn" is dying off to some degree. Would you agree? Do you think that there is there a new direction emerging for horror?
BB: I hope so because it was never a favorite of mine. I like violence and gore, but violence for shock factor is just gimmicky. There is an audience for it, but personally, it does not do anything for me. The trend now seems to be toward vampires, zombies, and supernatural ghost stories.
HF: One of the great things about indie horror and the popularity of unrated film is that there seems to be very few boundaries left in horror. This has allowed for more creativity and also more extreme films. Are there any boundaries that you will not cross in a film?
BB: Yes, no Human Centipede type films! Ick! Also, gratuitous sex scenes that don't relate to the story are not appealing to me. I won't do anything that resembles soft core porn or Skinemax flicks. Sorry guys. ;)

HF: You played Pig Bitch in "Albino Farm". I would think that between remembering lines and taking direction, there is a lot to be cognizant of when you are in front of a camera. How distracting is it to have intensive makeup/prosthetics on top of the average shoot?
BB: Well, it was pretty easy to remember my lines because they were… "GAAAHHHH and RAAAAAH!!!"… The performance for me was raw and visceral- I had to tap into my primal instincts, hormonal frustration, and uncontrollable rage. The makeup actually helped me get into character, but after wearing it daily for three weeks for over 14 hours a day, my body and mind became worn down dramatically. It was the most challenging acting experience in my life, but I feel it was definitely worth it because it opened many doors for me. So many actors are looking for work or their big break, so I am thankful that I had the opportunity and used it as a platform for my career.

HF: Congratulations on winning the Best Rising B Movie Actress Award at the Golden Cob Awards. Has that win and your overall performance in "In A Spiral State" resulted in more opportunities coming your way in 2011?
BB: Well, thank you so much! Yes, the win combined with other mainstream opportunities in 2011 has presented a multitude of opportunities for me. Currently, I have six films lined up already for 2012, so hopefully there will be more and they all work out! I am ready to try new genres and let the world know that I can act without the aid of insane makeup.
HF: Who are some of your favorite horror directors?
BB: Well, I have many favorite directors and they are not all in the horror genre. My favorite movies are actually by the Coen brothers.

HF: What horror movies have left a lasting impression? It seems to me that one of the great things about horror is that it accomplishes what movies were meant to accomplish; to make the viewer actually feel something. Which movies have had a lasting impact on you?
BB: Interview with the Vampire is one of my favorites. Probably because it had the look and feel of an old studio film with elaborate sets, costumes, musical score, and more. It was atmospheric, well-acted, and beautifully shot. Those types of details are not as important to film making anymore. It's very sad.
HF: What have you learned by error as far as marketing yourself as an actress?
BB: I get disappointed a lot and lately I feel like giving up so many days. I am literally straddling b movie/cult success and mainstream films. I am really confused about what to do to take my career to the next level. I am getting burnt out quickly on wearing so many hats and having to "sell" myself as an actress to get work. I am really ready for a legitimate agent and PR person so that I can solely focus on my craft, which is what I love. I am an actor, not a sales person, though I realize that is part of the business. I would really just love to let the business aspect be handled by others (that I trust) and allow myself to grow as a performer by training more and working consistently.
HF: How important is social networking in your career? What are the pitfalls to social networking?
BB: You meet a lot of people who offer work, but you meet more fakes and wannabes. There are also lots of rude folks out there, but I generally delete them immediately. People become cowards when they can hide behind a computer and hurl insults. I have confronted people in person at events who had said nasty things about me. It was actually quite amusing to see how they backtracked and became such chickens. And that is an insult to a chicken.
HF: Anything that you would like to say to your fans?
BB: Thank you all for your love and support. I hope that you see more of my work in the future. Please visit my sites for more info!

Her sites are:
http://www.biancabarnett.com

http://www.facebook.com/Bianca.A.Barnett

http://www.myspace.com/bianca-barnett