"Familiar" is a new horror short by Fatal Pictures. A horror short that Fangoria is calling "a masterpiece" nonetheless. Look for an exclusive interview with the founders of Fatal Pictures on this site soon!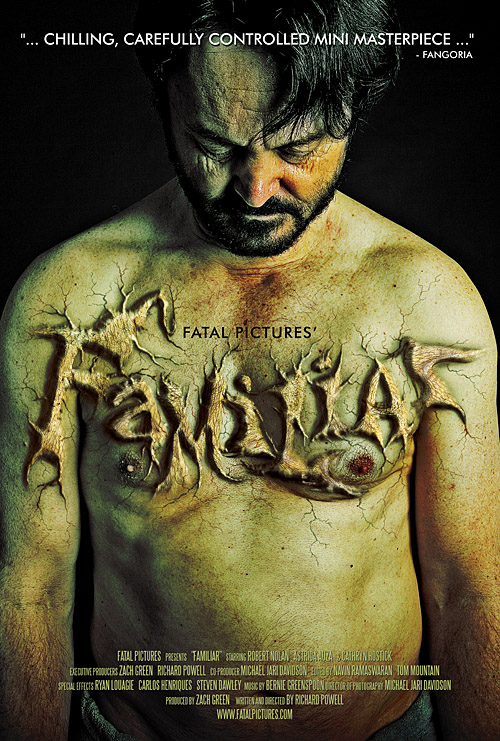 Press Release:
FATAL PICTURES' presents "FAMILIAR" (2011)
FATAL PICTURES is proud to announce "FAMILIAR", a new
Horror short starring Robert Nolan, Astrida Auza & Cathryn
Hostick as the seemingly idyllic yet ultimately doomed Dodd
Family.
SYNOPSIS:
Through a series of tragic events a middle aged man grows to suspect the
negative impulses plaguing his mind may not be his own…
CREDITS:
Written/Directed by Richard Powell, Produced by Zach Green
(FATAL PICTURES)
Cinematography & Co Producer Michael Jari Davidson shot on
RED Digital Cinema. Special FX provided by Ryan Louagie,
Carlos Henriques & Steven Dawley (The Butcher Shop). Music &
Sound Design by Bernie Greenspoon.
GENERAL INFO:
Sneak Peek spread in Issue #305 of "Fangoria Magazine"
Ain't It Cool News Review – http://www.aintitcool.com/node/51715 - 10
Altered Realities Radio (Podcast) –
http://www.alteredrealitiesradio.com/horror-news-areviews/
horrorreviewvault/1556-familiar