Welcome to the newest feature on the site!
Our inaugural pick was an easy one. "Familiar" by Fatal Pictures is a very strong entry in the horror short category. The acting, direction and effects are all very strong and the film is quite original. Look for an interview with the people that brought this film to life in the very near future. In the meantime, find out where "Familiar" is playing and try to get out to see it.
For the complete FrightFiles.net review of "Familiar" click here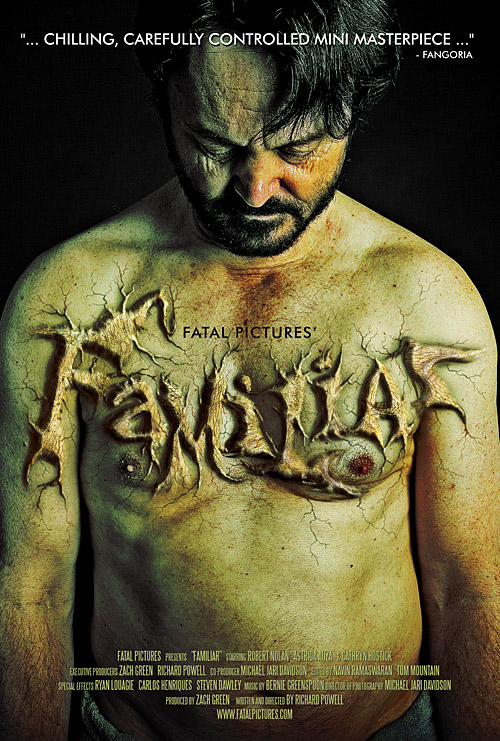 Vital Stats for "Familiar" from Fatal Pictures:
Year Released: 2012
Written/Directed by: Richard Powell
Produced by: Zach Green
Cast: Robert Nolan as John Dodd
Astrida Auza as Charlotte Dodd
Cathryn Hostick as Jordan Dodd
Reviews/Peeks:
Fangoria #305 (Sneak Peek of the film)
Ain't It Cool News Review- http://www.aintitcool.com/node/51715 - 10
Altered Realities Podcast- http://www.alteredrealitiesradio.com/horror-news-areviews/horrorreviewvault/1556-familiar
Where Has "Familiar" Be Seen?:
The Chicago Fearfest
The Texas Frightmare Weekend
The Dark Bridges Film Festival
FrightFiles.net Overall Review Score: 9 out of 10

IMDb link: http://www.imdb.com/title/tt2095640/
IMDb Rating Score- Awaiting enough votes
Trailer:
Congratulations to Zach Green and Fatal Pictures on the Chicago Fear Fest "Best Horror Short" Award!