QUESTION: What do you get when you combine beauty, brains, a love of horror and a vehement support of Girl Power?

ANSWER: Andie Noir, of course.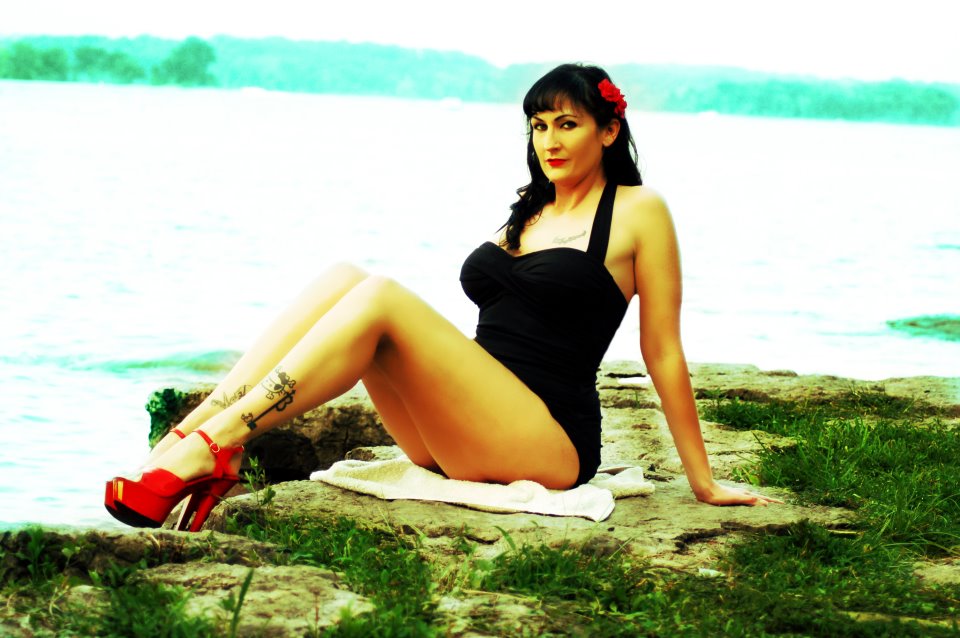 I interviewed Andie on Thursday, November 10, 2011 and what a memorable interview it was. She makes an interviewer so comfortable that the interaction is much more like a free flowing conversation. If you have not seen her work, I urge you to do so. She is co-founder and CEO of FataleNoir productions and an actress as well. She is very humble yet confident in her abilities. She works with Goldie Fatale, who she speaks highly of, in the FataleNoir production company.
HorrorFan: Tell us about FataleNoir. Any current projects?
Andie Noir: We are working on our first full length movie! We started scouting for the film in January of 2010. The story is one of an urban legend; witches in Black Mountain. We follow 4 people and a priest that go into the Black Mountain. The actual account from the townspeople is that there were witches there. The townspeople engaged in vigilante justice. We started filming in February of 2010. We have tried to get as much footage as we could up until now because it gets very cold there. The rest is filmed in Nashville. You can pull it off well because of the large hills in the Gatlinburg area. This is our first time doing a full length feature film and we are perfectionists. This film represents us. We aren't just actresses; we are women in the horror genre acting, filming, producing...
HorrorFan: How did you discover the ability and confidence to pursue acting and producing? I would think that it is very stressful, especially given the economic situation today.
Andie Noir: I grew up in a small town and went to college for pre-med. I went to school and was partying and stuff. I felt like I needed to find myself. I went to a community college then to find myself. I dyed my hair black, not to rebel, but to almost create a character for myself. A teacher at my community college approached me and said that if my personality was as energetic as my look, he would love for me to try out for some plays. Plays are great because you can actually be someone else for a night or however long it runs. I also began modeling for Wilhelmina and did some commercials. I moved out to Los Angeles and it was culture shock. I lived off of Sunset at first and learned that it was just not the right place for me. I moved to Sherman Oaks which was better because it reminded me of home. But there were too many distractions out there and I returned to Nashville.
I began working for a medical lab and still do work there. Working with blood allows me to satisfy the vampire in me (laughs). The medical lab has always been supportive of me and will work with me anytime that I have a project to do.
I then started to get some parts in horror movies. Flickering Candle productions asked if I would be a spokesperson for them and attend the horror conventions representing them. I began to develop a fan base because of the conventions. I also did 3 of the Flickering Candle films. People began to recognize me almost overnight. All of a sudden, I had 5,000 Facebook fans and a separate fan page! I still work my day job and they are very good with giving me time off when I need it. I don't want to use the word celebrity, but it was like I became a celebrity overnight. I just wish I had more material to put out there for them (fans).
In Nashville, I have friends that are musicians. If you are a musician, you can play on a street corner and people will notice you and your art is in public. Actors cannot do that.
I am very outgoing. People don't realize that and if they don't know me personally, sometimes they think I am a bitch. People will write parts for me and I will play anyone that is evil (laughs).
HorrorFan: Do you have an interest in producing anything outside of the horror genre?
Andie Noir: I have acted in some other things. I have done some short videos and films not in the horror genre. I did one that was a Camelot type of movie. I have done a serious role as a mom hooked on drugs. (In the film) my daughter takes the drugs and dies. It took a lot out of me emotionally. I don't have children but to put yourself in that character and imagine what it would be like is very difficult emotionally. I enjoy any kind of acting but I love the horror genre. It is what I grew up with.
HorrorFan: Have you thought about what contribution you would like to make to the horror genre?

Andie Noir: I want to show that female power is very strong! I want to show women can write creepy stuff too. I can be the next Wes Craven. I would like to bring a strong female impression to horror.

HorrorFan: Favorite films and/or directors?

Andie Noir: I really love the 80s slasher movies. Michael Myers, Jason, Freddy; they are all classics but we don't have anything like that for the current generation. Maybe the ghostface killer from Scream is the closest. I like Rob Zombie alot and I would really like to work with him.

HorrorFan: It is about time that some horror shows are finally making it. Past attempts to bring horror to the television audiences such as Kingdom Hospital failed rather quickly. Why do you think that shows like The Walking Dead and American Horror Story are gaining such popularity?

Andie Noir: I am not sure why but it really is taking off. Zombies are really big right now and The Walking Dead is helping to bring them back. I also think that some women like the stories with the love triangles and things like that. There is something in them for everybody. Someone recently told me that American Horror Story is the Melrose Place of ghost stories and it really is. We all want something new and different. They knew that people were ready for that. True Blood really got the ball rolling. I think that others saw that everyone loved True Blood and wanted to bring that audience to their channel.
The whole thing is great because it is bringing more people to horror and hopefully back to the theaters. There is also a number of the paranormal shows that are really popular. As a society, we are kind of fascinated with things that scare us. I don't know if all this is a reflection of the problems in our country or maybe a distraction.

HorrorFan: Do you see horror taking a different direction at this time? First it was slashers and then everything was "torture porn" which seems to be dying out.

Andie Noir: A lot of stuff is being toned down and becoming more mainstream. People are getting tired of the straight in your face type of thing and they want a change. You don't need a lot of blood to make a good horror film. Look at movies like The Shining, The Exorcist, The Strangers, etc.

HorrorFan: What accomplishments are you most proud of?

Andie Noir: That people even know my name! I am very proud of my performance in The Legend Of Crazy George. I devoted 100% of myself to that one. I auditioned for the film, my first audition for a full length movie, and there were a ton of people there to audition. I was very nervous and felt like I blew it. But, I got the call that I got the part. The part that I was playing was written in a very David Lynch type of way. You really have to put everything in it. I am really proud of it.
I am so happy that people know who I am and want to hear what I have to say.
It is rough sometimes, like when men message me and say creepy things. But, at the Famous Monsters convention, a man and his son brought an album full of pictures of me they got from the internet. I signed every one! I was so happy that they had come all the way to do that. The creepy part bothers me but the plus side of such fame is the way that the fans like this man and his son came out to see me.
HorrorFan: Anything that you want your fans to know about you or FataleNoir productions?

Andie Noir: Keep looking for more information on FataleNoir productions. We want to keep moving and hopefully have someone manage a site and keep everyone up to date. Hopefully, it will be out there when the conventions start. Keep on looking and listening and finding more info from us!