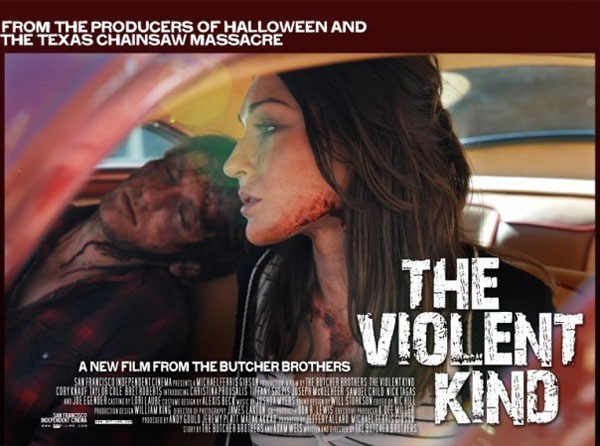 I was a fan of "The Hamiltons" from the beginning. In fact, "The Hamiltons" has been one of the few saving graces in the "movies to die for" lineup. The Butcher Brothers started to make a name for themselves in the horror genre, and then came the "April Fool's Day" remake. Fans being fickle anyway, everyone started to question whether the Butcher Brothers were a one hit wonder. I, for one, think that "The Violent Kind" is solid evidence that the Butcher Brothers can be major players in the horror genre.
The DVD cover to the right that is shown on Netflix instant initially got my attention. I figured it was worth a look because even if it wasn't a great horror movie, maybe there would at least be some decent biker party/fight scenes. I have always been a fan of the biker movie genre and figured maybe this would work on that level if not the other.
Having heard little about the film and knowing that sometimes the quality of indie film on Netflix instant is a crap shoot, I certainly did not have high expectations. Having seen the movie now, I can tell you that this film likely would have met any expectation that I had going in. This is one fun movie.
The movie initially follows 3 bikers and a girlfriend. They wind up at a party and everything seems normal enough. One of the bikers has an ex-girlfriend (Tiffany Shepis) that is rubbing his nose in her new relationship. Shepis and her boyfriend leave the party. She returns without him completely covered in blood and now has some bizarre new behavior that includes trying to bit chunks out of everyone. No one understands what is happening. Things get to be more bizarre when anything requiring electric, including cars, fails to work.
Enter Jazz, Murderball, Trixie and Pussywagon. They are a cross between 1950s rock bands and The Mighty Mighty Bosstones. They prove to be bad guys very quickly. Seems simple enough at this point: Kill them and their girlfriends and everyone is safe, right?
Wrong.
I won't get into the storyline much after that point to avoid spoilers.
The gore effects in the film are frequent and well done. There is plenty enough gore to satisfy gore lovers and it is very graphic. The only let down is that there are two scenes where it is overdone enough to look strange.
The story is very original and I thought the acting was solid. The behavior of many people is quite bizarre and the film never gets boring.
Overall, one of the best movies I have seen this year! Give this a shot on Netflix Instant. If you love gore, you will not be disappointed. If the Butcher Brothers were trying to prove that "The Hamiltons" was not a fluke, they have clearly succeeded.
8 out of 10